GETSOME 1000 is Long Lasting, Non static, non toxic, non staining, non conductive,  it will not dry out, gum up or turn gooey,  non halogenic, non carcegenic, LOW VOC, NO CFCs, safe on plastics, metals, points, enamels, fiberglass, NO Residual Petroleum Odor.
Engineered with pharmaceutical grade machine oils and blended with the Newest Technology in High Friction Anti Wear and Anti Corrosive Additives.
Professional Grade, Commercial Grade, Industrial to Household Applications.
Green and Mean.
Exclusive Formula developed, designed and engineered to exceed industry standards for a multi purpose lubricant.  Tested and approved by industry professionals.
Getsome Product's Staff has 40+ years of experience and expertise in developing, manufacturing and distributing lubricants and consumer goods.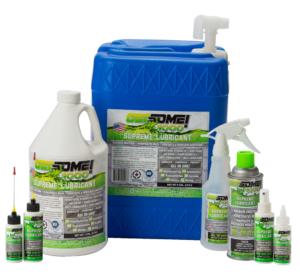 SIZES:
GS 1000 is available in a number of different sizes including 2 oz Needle Bottle(2N), 2 oz Screw Top(2F), 4 oz Needle Bottle(4N), 4 oz Pump Spray(4P),  5 oz Aerosol (GS-5A), 11 oz Aerosol(11A), 1 Gallon(1G), 5 Gallon(5G) , 55 Gallon(5G) and 16 oz Pump Spray Bottle(16PB) Free with each 1 gallon and 5 gallon.
CERTIFICATIONS: 
NSF H-1 for use in Food Processing Areas. Registration #150203 (AEROSOL)
NSF H-1 for use in Food Processing Areas. Registration #150202 (LIQUID)