FOOD AND BEVERAGE INDUSTRY:
Use GETSOME 1000 anti-corrosion, anti-moisture lubricant, non-toxic, non-halogenic and environmentally safe!
For chains, sprockets, meat hooks, wet area relays, solenoids, switches & light fittings, motors and fans in cold rooms and freezers, taps, valves and pipe threads, conveyor bearings and bushes. Spray GETSOME 1000 on the outside of bone, waste meat and seafood bins and waste food compactors to stop any spread of fly maggots. For food and beverage bottling and canning conveyor line bearings, bushes and rollers. Switches, relays, solenoids, electrical plugs, sockets and junction boxes on hot water heaters and cookers. Field windings, armatures, circuits, solenoids, switches, splines & couplings on pump & drive motors.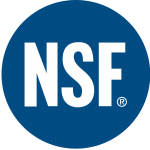 CERTIFICATIONS: 
NSF H-1 for use in Food Processing Areas. Registration #150203 (AEROSOL)
NSF H-1 for use in Food Processing Areas. Registration #150202 (LIQUID)
CLOTHING AND TEXTILES:
GETSOME 1000 is a fine textured, non-staining lubricant that can safely be used on all pin & roller bearings, bushes, shafts, gears, pivots and hinges for sewing machines, over lockers, electric scissors, spinning wheels and weaving looms. Stops moisture and corrosion problems.
ALUMINIUM SHEET METAL:
GETSOME 1000 is considered the best cutting lubricant for stopping tool chatter, furring and burring and other problems that are encountered when working aluminum. GETSOME 1000 is widely used by the aluminum industry in the manufacture of garage doors, insect & security screens, sliding doors, retail and shop front fittings. Use GETSOME 1000 to lubricate protect against corrosion, locks, hinges, door rollers & tracks. GETSOME 1000 makes it easier to remove corrosion from aluminum. GETSOME 1000 lubricant will improve performance when used on sheet metal seam folding and edging machines. GETSOME 1000 will make cutting easier on sheet metal shearing machines and guillotines. GETSOME 1000 keeps machinery and equipment cleaner and corrosion free. Use GETSOME 1000 to lubricate bushes, shafts and spindles.
TIMBER AND SAW MILLS:
Use GETSOME 1000 to protect circular and ban saw blades after sharpening until they are used or are stored between uses for long periods from corrosion. GETSOME 1000 will lubricate, clean and protect log bed carrier and bench feed bearings from corrosion caused by timber resins. GETSOME 1000 lubricant is a good self oiling lubricant for chain saws, keeps the chain and bar free of corrosion and stops the build up of timber resins.
PNEUMATIC CONTROL SYSTEMS:
GETSOME 1000 anti-corrosion lubricant has a very wide application for all air operated and controlled equipment. GETSOME 1000 will keep moisture and corrosion out of solenoid valves, cylinders, actuators and lines. Use GETSOME 1000 to lubricate the total pneumatic system, it keeps equipment like valves and cylinders from sticking. GETSOME 1000 will free up air control equipment that is frozen with corrosion. GETSOME 1000 is used in automatic line lubricators. GETSOME 1000 will not gum up or effect neoprene seals.
GETSOME 1000  ANTI-CORROSION, ANTI-MOISTURE LUBRICANT HAS A WIDE APPLICATION FOR THE MAINTENANCE AND SMOOTH RUNNING OPERATION OF ALL MANUFACTURING PLANT AND EQUIPMENT.
This product is acceptable as a lubricant with incidental food contact (H1) for use in and around food processing areas. Such compounds may be used on food processing equipment as a protective anti-rust film, as a release agent on gaskets or seals of tank closures, and as a lubricant for machine parts and equipment in locations in which there is a potential exposure of the lubricated part to food. The amount used should be the minimum required to accomplish the desired technical effect on the equipment. If used as an anti-rust film, the compound must be removed from the equipment surface by washing or wiping, as required to leave the surface effectively free of any substance which could be transferred to food being processed.